Yule Log History: Swiss Rolls, Jelly Rolls & Other Rolled Cakes
Cakes come in many shapes, sizes and flavors. Yule log cakes are some of the most popular rolled cakes decorated for Christmas. But, how do they compare to other rolled cakes, like a Swiss Roll (or, Jelly Roll)?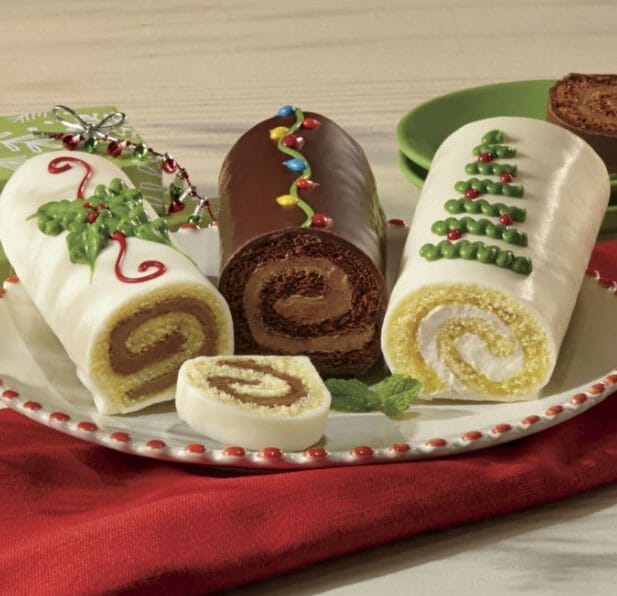 The Origin of Cake
Cakes have been around for centuries. Primarily used for celebrations, the earliest cakes were not that different from bread. In Roman times, butter and eggs were added to bread dough to give it a cake-like consistency; honey was often added as a sweetener.
Ancient cakes were used in religious ceremonies and baked in different shapes, depending on the type of observance. It is believed that round and circle shapes symbolized the cyclical nature of life, as well as the sun and moon.
The book An A to Z of Food and Drink by John Avto explains that the word "cake" originates from the Vikings. "Kaka" is from the Old Norse language of Germanic words.
Before refined sugar, spices, nuts, and dried fruit were commonplace, it was considered to be an honor to be presented with a cake. Even today, a cake means that an occasion (and/or the recipient) is special. We celebrate many events, from birthdays to weddings, with cake.
Yule Log Cake History
Through the years, cakes were baked in molds shaped and decorated to look like animals, such as Easter lambs and rabbits, and many other things, such as Yule Logs, to celebrate Christmas and the winter solstice. There are historical references in the late 1800s that indicate a French pastry chef developed a log-shaped cake to resemble an actual Yule log. This article provides more Yule log lore.
A Yule log cake is a dessert traditionally served near Christmas, popular in France and Quebec, and is also known as bûche de Noël. The most common combination is basic yellow sponge cake and chocolate buttercream filling. However, there can be many variations, including chocolate sponge cake, ganache, and flavored icings. Once baked, it is decorated to look like a tree branch with icing that mimics the look of tree bark. Fresh fruit and flowers, whipped cream, icing-styled berries, and other forest decorations are common additions.
No matter the season or celebration, rolled cakes are a welcome addition to happy occasions!
Yule Log vs Swiss Roll (aka Jelly Roll)
In the 18th century and into the early 19th century, rolled cakes were popularized in America. One early published reference for a rolled cake spread with jelly was in the Northern Farmer, a journal published in Utica, New York, in December 1852.
The origin of the term "Swiss Roll" is unknown. The earliest British reference to a rolled cake by that name appeared on a bill of fare dated June 18, 1871, published in the 1872 book A Voyage from Southampton to Cape Town, in the Union Company's Mail Steamer "Syria" (London). A recipe for "Swiss Roll" also appeared in the U.S. that same year in The American Home Cook Book, published in Detroit, Michigan.
The rolled cake terminology evolved in America for many years. From 1852 to 1877, the dessert was called: Jelly Cake (1852), Roll Jelly Cake (1860), Swiss Roll (1872), Jelly Roll (1873), and Rolled Jelly Cake (1876).